EXHIBITIONS
Forthcoming & Past shows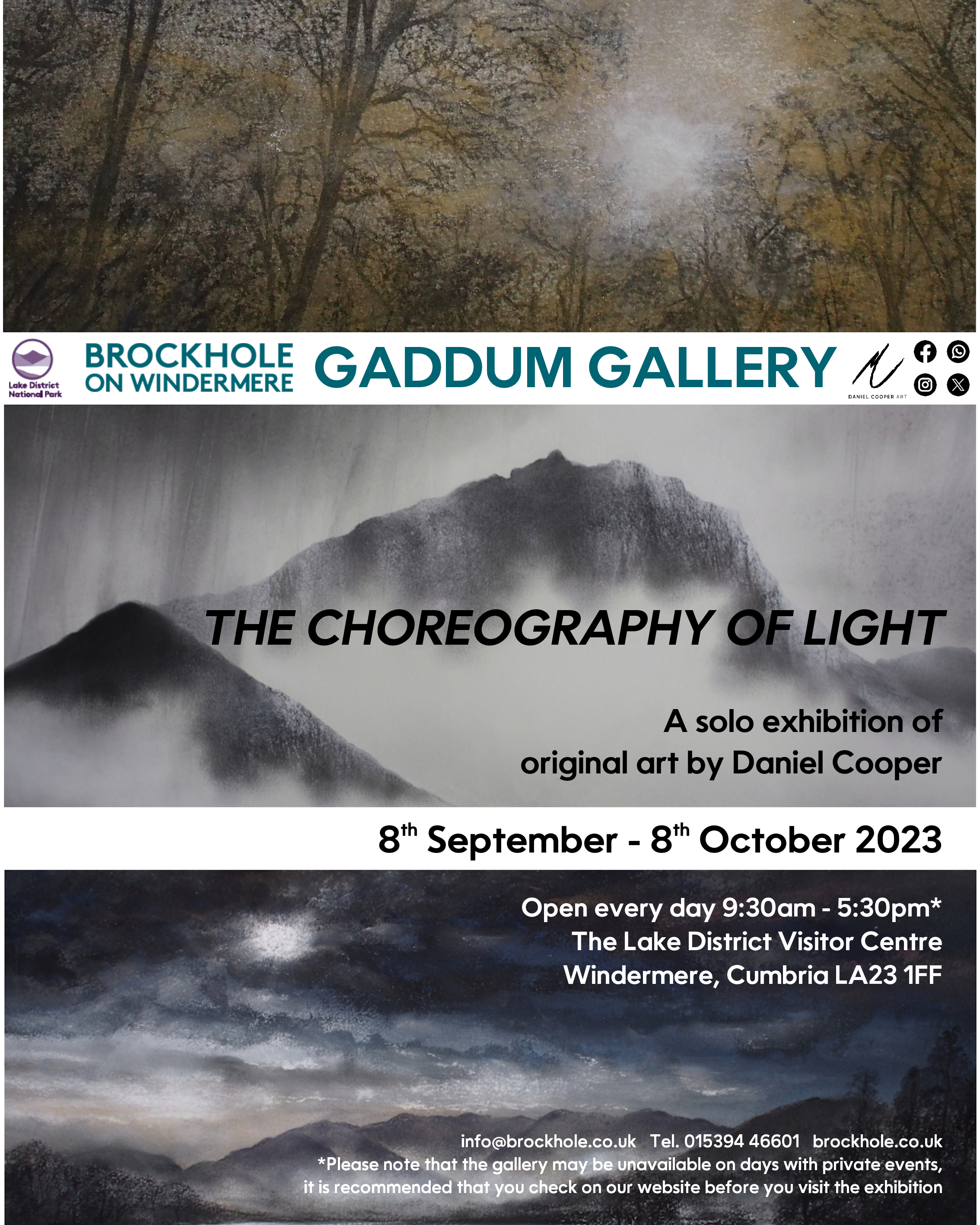 THE CHOREOGRAPHY OF LIGHT
A solo exhibition of
original art by Daniel Cooper
8th September - 8th October 2023
Open every day 9:30am - 5:30pm*
GADDUM GALLERY - BROCKHOLE ON WINDERMERE
The Lake District Visitor Centre
Windermere, Cumbria LA23 1FF
Hosted by Brockhole within The Gaddum Gallery, The Choreography of Light is the brand new solo show of original paintings & drawings by locally and nationally acclaimed artist, Daniel Cooper.
Created throughout 2023, The Choreography of Light visually narrates an evocative & ethereal experience of shifting skies and breathtaking heights of the fells of Cumbria.
Using locally sourced charcoal & mixed media, Cooper's monochrome palette and expressive mark-making focuses on capturing the moments - sometimes only seconds long - of the marvel & wonder of light during rainfall, storms & low cloud. These moods and images are often the reality of The Lake District, a place where Cooper intensely connects with emotionally.
Cooper is now into his second decade as a professional artist working in Cumbria and has shown widely across the county. His art has found itself into private collections worldwide, with celebrity patrons; & critical acclaim from well established galleries and peers. 
Daniel Cooper and Brockhole invite you and guests to the opening of The Choreography of Light, held at the prestigious Gaddum Gallery, housed within Brockhole on Windermere.
The opening begins on Friday 8th September 2023, when you will have the opportunity to meet and talk to the artist all afternoon, & enjoy the complimentary wine, soft drinks and light refreshments.
[email protected]   Tel. 015394 46601   brockhole.co.uk
*Please note that the gallery may be unavailable on days with private events,
it is recommended that you check on the website above before you visit the exhibition
Keep up to date by joining the Daniel Cooper Art e-mailing list. You will be the first to receive preview and private view invitations to Cooper's forthcoming solo exhibitions. To join, simply e-mail Cooper direct on [email protected] and request your addition. Thank you.
email 

[email protected]  |  

Telephone (mobile)

+44 (0)770273788
An Echo in the Sky - 13 August – 20 September 2022
A major solo and 10th anniversary exhibition by Daniel Cooper 
At The Severn Studio, Brantwood, East of Lake, Coniston LA21 8AD
An Echo in the Sky is Daniel Cooper's brand new major solo exhibition, and comes at the time he celebrates a decade in a career as a professional artist living and working in Cumbria. The collection of original work describes the place where it all started for Cooper: Brantwood, the former home of John Ruskin, on the East side of Coniston Water; and it is also the host for this new show. After extensive observations from Brantwood Estate during his years of practice, including an annual residency, Cooper has made a personal and emotional decision to revisit the origin of his practice, where 'feeling for place' became the form of communication from all future work. Cooper has also included new works of other regions and fell ranges from around The Lakes, showing the breadth of exploration he has undertaken over the past decade. 
"I want to depict how the sky, light and the place that surrounds me make me feel. There is beauty in all corners of nature, and I want to compose it multiple times in effort to represent the dramatic and sublime spaces we live in. Our weather is constantly changing, and it always feels different, and in many ways, the weather interprets the land it unites with. The land for me is the stage to stand, contemplate, walk and observe upon." 
Cooper's palette of greys and subtle colour from various mixed media is dominated by his defining media - charcoal, in particular, burnt on the Brantwood Estate. His distinctive style of atmospheric skies and landscape from around The Lake District is well known and collected by private and commercial collections worldwide. An Echo in the Sky goes further in his efforts to scale his work larger to describe the dominant natural architecture surrounding Coniston Water. Cooper has also introduced his new works made using pyrography – burning into the paper to create his drawings. 
"Like an echo, but in this case, something observed, the landscapes of Cumbria repeatedly fuel my need to express myself visually. A fell summit is both an end and a beginning to a journey, and I believe there are infinite ways to respond when you look up". 
Award winning local artist Daniel Cooper is one of very few full-time artists living and working in Cumbria today, and has held over thirty solo shows and countless group shows dedicated almost exclusively in this county. He has exhibited with or alongside works by notable artists such as Percy Kelly, Samuel Prout (John Ruskin's teacher), Beatrix Potter and shown concurrently with a special exhibition of works by JMW Turner at Brantwood. Along with celebrity collectors, Cooper's work has appeared on television and national publications including The Great Outdoors and TATLER magazine. During the Covid pandemic lockdown, Cooper was one of the first British artists to host an online-exclusive solo exhibition, on his website, in spring of 2020. Today, Cooper exhibits permanently in galleries across The Lake District and produces a number of private commissions each year. 
An Echo in the Sky is dedicated to my late dear friend, Kate, who helped me in life to progress as the artist I am today. – Daniel Cooper.
April 2022 - ART FOR UKRAINE
An auction to help aid the effort for the people of Ukraine (Auction ended)


It has been difficult to talk about the devastation in Ukraine publicly and it has been heart-breaking to see the scenes, especially of the people from such a beautiful country. My thoughts are with the families of all the Ukrainian people. I was born in Shrewsbury, England with strong Ukrainian and Eastern European roots on my mum's side. My grandparents came to England from Ukraine after the end of World War II. I have been deeply saddened by what is happening today. I hope for peace, and an immediate ceasefire. Today, like many others across the world, I wish to contribute to the effort to aid the most vulnerable. I am donating to help protect children and families in Ukraine by giving to UNICEF – follow this link unicef.org,uk